ZACK CARR
...the story of a man's search for his artistic truth...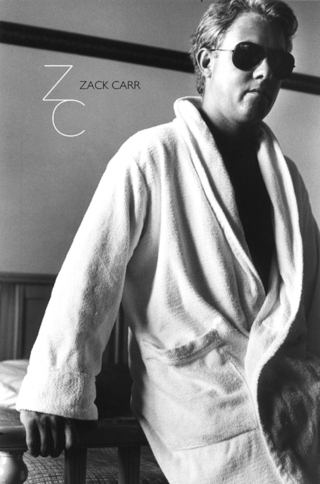 Art, Drawings, Designs: Zack Carr III
Cover Photographer: John Calcagno
Art Director: Sam Shahid, Shahid & Co.
Publisher: powerHouse Books
Parsons School of Design NY, NY: World Premier Book Launch 2002
Publicity: Lynn Tesoro, H & L Group

As Creative Director of Calvin Klein and designer of Zack Carr Collection, Zack Carr helped elevate American Fashion to a worldwide phenomenon before his life was cut short from a rare paralyzing form of cancer. As stated in Women's Wear Daily, " [Zack Carr] may have been a man who experienced most of his career behind the scenes, but the impact [he] had on the fashion industry could have rivaled that of any big name designer." ZACK CARR portrays the life of this unsung hero of fashion...


In Zack Carr's world, the Line was elemental. It was a connector, connecting his worlds of inspiration – from Chanel and Balenciaga to Martha Graham and Halston. His Line was a connector of past glamour and sophistication – Audry Hepburn, Jackie Kennedy and Pauline de Rothschild to a new era of modern freedom and elegance – Nicole Kidman, Gwyneth Paltrow and Kelly Klein. In Zack Carr's world, the Line connected his love and dedication to art and fashion. In his art, the Line was sensuous, sexy, slightly seductive and beautiful. The Line of his art ran through his icons – the sensual Georgia O'Keefe, the powerful Jackson Pollock, the seductive Man Ray. The Line of his fashion was clean, clear and fresh, connecting his fashion influences and inspirations – from the modernity of Balenciaga to the freshness of Chanel to the cleanliness of Halston. In Zack Carr's world, the Line was simple and beautiful. It could stand alone and be regal. It could move with grace and warmth and power. The Line was his reference, his muse, his inspiration. The Line was Zack Carr...